"The truth is, if you want something that bad,
you'll do anything just to have it."
Hello, friend!
Welcome to Journey to Millions!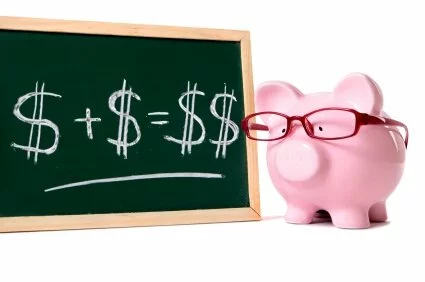 In my previous article, you discovered what personal finance experts advise people like you and I on spending money the right way. You learned how to tell your money where to go and saw how the big wigs in personal finance like Bro. Bo Sanchez, Peter Dunn, and the Learnvest Team do it.
Now, for those of you who complain about having too little money coming in, or not having enough money to set aside for your dreams, worry not. In this article, I'm going to share with you how you can super boost your income like we did.
Please let me introduce you to my husband, Elvin Peria. He will be sharing with us how he managed to increase his income by 40% to save up for our dream house, turned dream wedding, while helping his parents send his brother and sister to college.
How Elvin Made More Money
It was on the Good Friday of 2010 when my ex-girlfriend (now my wife) and I had free time to discuss our future plans. We dreamt of purchasing a house near my workplace. Because of this, we needed to make an honest evaluation of our financial situation. We first laid out everything to assess "where we were." Our discussion included our income, expenses, liabilities, etc. As the numbers were revealed, we realized that there was no room for our dream house in our budget. The only options we had were either to reduce our expenses or increase our income.

We tried to reduce our expenses by adopting a tighter spending plan, but it was still not enough to squeeze into our spending plan the monthly amortization of the house we wished to have. In the end, we realized that merely cutting down our expenses was really not the best option.

We were left with the option to increase our cash flow. We both asked ourselves how we might be able to do this. Personally, I thought that if I wait for a salary increase, it might be too late. We might need to pass up on the opportunity to buy our dream house. If I moved into a new company that will offer a higher salary, it might be too risky. Plus, I really loved the company I'm working with. I couldn't imagine myself working somewhere else. If I look for a sideline, I might get sick, juggling two jobs at a time.

We discussed the pros and cons heavily and later on decided to take the last option.

The risks may be big, but our desire to earn more money in order to meet our goal was way bigger.

I started evaluating my skills set. I asked myself, "What am I good at?" Ideas started popping my way from here. I knew that I am computer literate. I am great in automating things. I am excellent in using MS Office applications. I love my girlfriend unconditionally, and the list went on, and on, and on.

From my list of skills, I chose which ones I can use to generate additional income. It was hard to imagine that I can earn just by loving my girlfriend unconditionally, so I looked into the other options. LOL.

I ended up with the idea of using my computer skills as my main "product/service" which I could exchange for money.

After setting that, I tried to look for people who are in need of the service that I wanted to offer.

I remembered Jomar Hilario, who by that time was promoting "virtual assistantship" through his online newsletter. I thought that if I were to become a virtual assistant, I can leverage on the skills that I'm good at. So, I sent him a message and asked for a gig. Thankfully, he helped me out. (Just to give you an idea, it was through Jomar's Internet Marketing Seminar that I first learned how to blog.)

After a few SMS and email exchanges, Jomar led me to a job that enabled me to save money for the house Edel and I were dreaming of.

However, the real estate agent, whom I trusted a lot because of his affiliation to a reputable real estate company, failed to treat me right. So, I decided to withdraw my plans of buying my dream house and just save the extra money I was earning to fund my dream wedding.

I was fortunate to have worked comfortably as a virtual assistant because my skill in automation allowed me to reduce the time I spent working as a VA, from a full 8 hours/day work to a 2 hours/day gig. I simply developed a system that automated the tasks for me.

After 14 months of working as a virtual assistant, I was able to fund my dream wedding and my siblings' college tuition. As a bonus, I brought my whole family (and some relatives) to Boracay, on the same day of the wedding, for a simple four nights and three days vacation. These are things I wouldn't have been able to pull off without having had the courage to increase my income by working on the side.

I believe that anyone passionate enough for his dreams can do it too.

-Elvin Peria
Until now, I still fall in love with my husband (over and over again) whenever I remember how he persistently worked for the achievement of our shared goals. I really admire Elvin's dedication to our dreams that I follow his examples of hardwork and efficiency. Also, whenever I can, I share the story out to the world to give hope to others who have limited income and unlimited dreams. His story is a proof that if you really want something that bad, you'll do everything to have it. Yes, it can be done.
For an excellent guide on making more money, allow me to share with you Ramit Sethi's Earn1K Idea Generator Tool. I've tried it and it's free and full of high quality learning materials. So, I hope you'll enjoy it.
Also, as you may know, I work as a home-based Online English Tutor to earn money through RareJob.com, a company that offers online English lessons to Japanese, Korean, and Taiwanese students. If you are the type who enjoys teaching, making friends, and is proficient in written and spoken English, you might want me to help you get a job. You may send me an email at with the following details:
Full name
Professional email address (active)
Name of school you graduated college from
A paragraph describing yourself and your motivation for pursuing the job (maximum of 5 sentences)
This could be the start of your efforts to increase your income and make more of your dreams come true. Good luck!
As for our next article, Elvin and I would be revealing to you our Top 10 Biggest Personal Finance Mistakes that you shouldn't follow.
Now, before you leave this page, I'd like you to take a second and think what "product/service" you wish to exchange for money and post it in the comment section.
You'll never know when any one of us can become your future clients.
Have fun promoting yourself!
Until my next post.
Love,
Edel
If you enjoyed reading this article, get email updates (it's free).
Image taken from Women in Consulting